It's going to very hard to get through this blog without mentioning the B word. Nevertheless the importance of the trading relationship between the UK and Germany, for both countries and the EU, has never been more important.
Here's why:
Germany and the UK are not only major European economies (largest and second largest respectively), but major world economies (fourth and fifth respectively).
Germany's trade surplus with the U.K. reached a record high last year. In 2015 according to the German Federal Statistical (Statistisches Bundesamt) Office, the UK was Germany's third largest export market (£89bn). Conversely, the UK was the 9th largest import partner (£38bn), leaving a trade surplus for Germany of £51bn. The UK is German car makers' top export market. Other major German exports include machinery, chemical products, optical equipment and food.
Direct and indirect German investment in the UK (including Siemens, Bosch, BMW, RWE, E.ON, Deutsche Telekom, Deutsche Post, Linde and HeidelbergCement) stood at around EUR 121 billion in 2014, while direct and indirect UK investment in Germany (e.g. BP, Shell, GKN, Terra Firma and Rolls Royce) was worth EUR 49 billion.
There are more than 2,500 German companies with branches in the United Kingdom, employing a total of around 500,000 workers. German company branches employ more than one per cent of the UK's total workforce. Versus, some 3,000 British companies active in Germany.
SME's are the lifeblood of the UK and German economies. UK SME's recognise the important role that Germany plays in the UK's future prosperity. In a recent survey conducted by PWC, 67% of UK SMEs believe that the UK should prioritise agreeing a deal with Germany before all other all EU member states, including France. Interestingly, whilst France is the UK's second biggest trade partner, only 5% of SMEs believe we should focus on agreeing European trade agreements with them first.
Since the events of 23rd June 2016, concern has arisen within Germany due to the subsequent weakening of GBP, which makes German goods more expensive in the UK, and the impact this will have on German company sales.
Equally this may well lead to opportunities for UK businesses to sell more to the German market, but it is important to be well prepared for this as the German market is extremely competitive.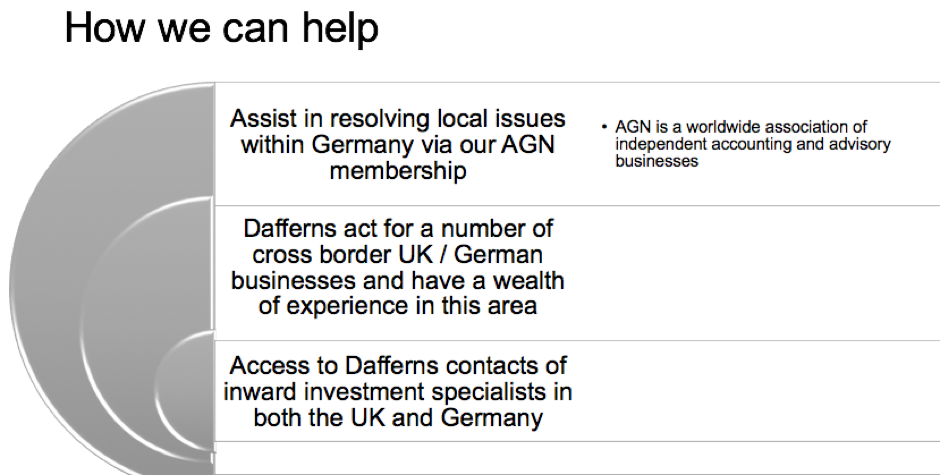 AGN member firms are ranked in 8th position in Germany's leading Accounting Firms and Networks/Associations list (Lünendonk®-Liste 2016) and are represented in 16 cities throughout Germany.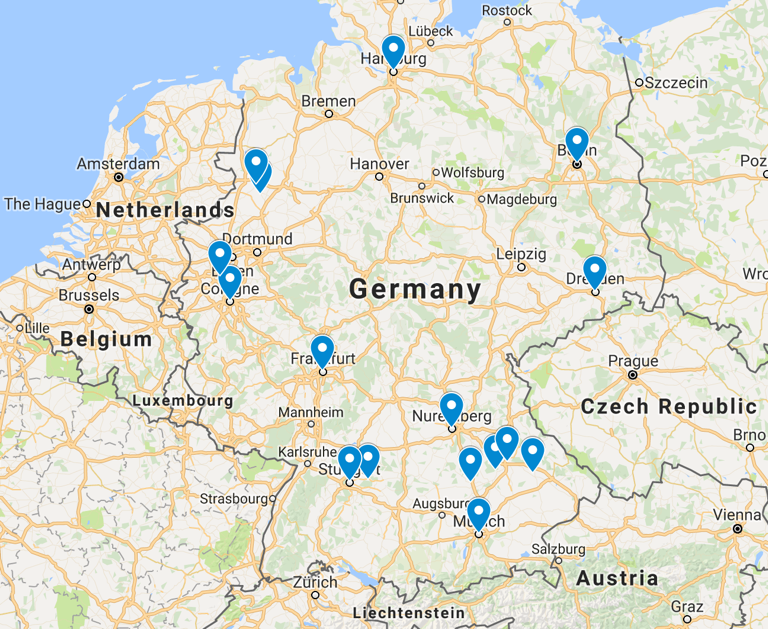 For further details on any International related please contact Andy Bewick